711 Pest Control Adelaide: Local Team For All Pest and Termite Treatment Service
711 Pest Control Adelaide is your local and legal exterminator having all your pests-related solutions at one stop. Termite or any other pest infestation at your end arises the need for quick and safe pest control treatments. We have pest treatment Adelaide teams of professional exterminators who are always there to help you.
As we run our family-owned local business, we have vast knowledge and experience in understanding the types of local pests, their season of breeding, and the treatment required to evict and control them. Being local we are easily available as Adelaide pest control team and that too 24X7. We have complete legal documentation for our methods of treatment, pesticides & insecticides, and also legally verified and licensed employees.
So, book our Local Pest Controllers who are experts to remove household pests such as cockroaches, rodents, possums, ants, silverfish pests, spiders, etc. You can also apply for the same-day booking of Pest Control Adelaide. We will be available to offer you the Emergency Pest Control anywhere in Adelaide.
Adelaide Home Pest Control Services
Do I Need Pest Control Services in Adelaide, SA?
Pest control is as essential as sweeping and mopping any building. Few pests are hidden from your eyes and few are visible but every pest creates some annoyance or the other. Sometimes you may think that having a few pests may be normal to you but you may be mistaken as pests are never meant to be ignored. Below are a few points you should know to understand what can pests do to your property:
You may get allergic reactions in your body if you have pests around as they pose various health risks along with them

Your property may suffer due to pests like rats, spiders, possums, bedbugs, and many more.

They may eat up your fruits and leaves in the gardens and plantation area.

Your pets may become the victims of pests like fleas which can be irritating for them.

Stings and bites can be dangerous for one and all.
These are some vital reasons that make Pest Control the most important activity for any homeowner or office owner. We do think you have the answer to "Do I Need Pest Control in Adelaide"? Never ignore pests and signs of pest infestation.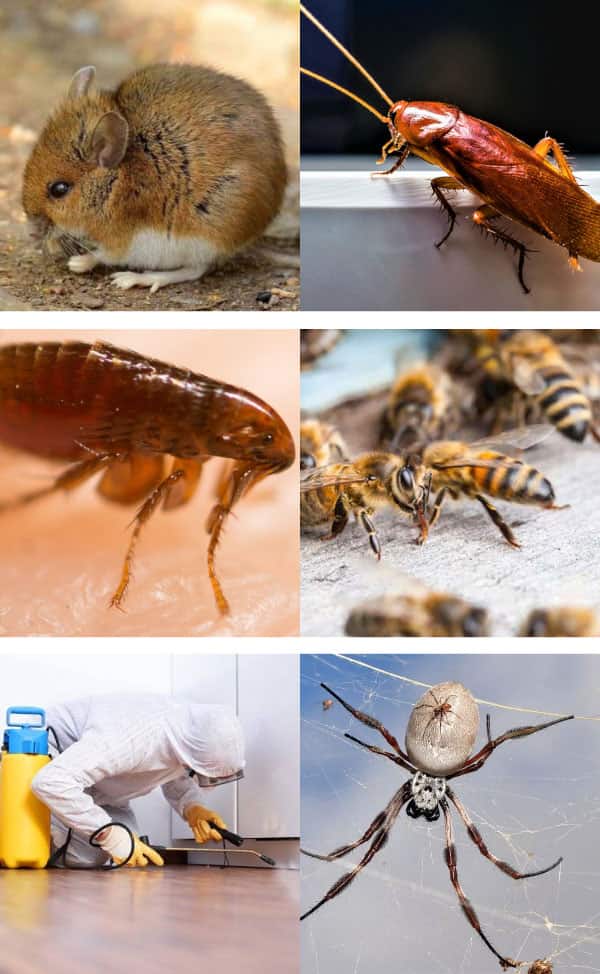 Adelaide's First Choice For High-Grade Pest Inspection, Treatment, and Removal Service
When it comes to the best pest control in Adelaide people only suggest one name which is 711 Pest Control. We are working tirelessly to achieve the number one place, we not only have the best solutions but also the best, hygienic, and qualified exterminators. We just not only treat; we inspect, treat, remove and reinspect, prevent and also retreat if required.
Same Day Pest Inspection Service
For effective treatment pest inspection is essential. An expert's eye goes where others can't see. Amount of infestation, treatment required, time management, price quotes, prevention from infestation, the requirement of post-treatment surveys, and all depend on the pest inspection meeting. So do avail your Pest Inspection Adelaide with us to know everything for an end-to-end treatment.
Quick Pest Treatment Service
Once the Pest Control Adelaide treatment day is scheduled, we will send only trained exterminators to undertake the task. We are fully equipped with tools and sprays and other essentials. You just need to cover or refrigerate your eatables, pack your loose items, kid's toys, clothes, etc. We use odorless organic products so you don't have to move out of your space but we will keep you at a distance while the pest control treatment is on!
Emergency Pest Removal Service
Removing dead pests is an unpleasant sight, we make sure we do it without your notice. Pests like rodents and roaches die out in their hideouts and create an unbearable smell around. Sometimes they die just in the periphery of your house, but just not worry we cover complete elimination, removal, and prevention of Pest Control services all the time.
Choose Best Pest Management and Control Services By 711 Team
We are the best-considered Pest Exterminators who are available for providing professional Pest Management services. Our experts are also available for Pest Inspection Services. Our Inspection and treatment services are affordable and give your expected results. We detect the pest type or the growth level of pests in your home. By identifying the pest type, we can easily remove the pests from your place. We use the latest technologies and modern tools for eliminating pests. Our Pest Controllers Adelaide also makes a complete report of your pest-infested home and the treatments that they used for making your home pest-free.
So, hire us for the prominent services of Pest Control Adelaide eastern suburbs, pest control northern suburbs, and pest control western suburbs.
711 Approach To Biodiversity and Pest Control Services
We take an overall safe pest control approach to maintain the balance of biodiversity along with pest control services. This means that we evaluate the risks and benefits of each pest control before we start it for use. We also test the pesticides and chemicals in various scenarios to ensure that it does not affect biodiversity.
You need to understand that every organism in the biodiversity has a role to play so you can not kill them even if they are infesting your house. You can discuss such things with our experts who are aware of the recent data of floras and faunas at risk in the Australian biodiversity, some pests whose killings have been prohibited, and some pests who have been protected by the law. These decisions are made by the government for maintaining biological balance in nature.
Same Day Eco-Friendly
Pest Control Service You Can See and Feel
Stop worrying and call us for the same day or emergency pest control services in Adelaide. We are active 24X7 with ready-to-action exterminators and fully sanitized and equipped vehicles. We follow all the protocols and laws and have experts who are professional, trustworthy, and polite. Call us, book us and enjoy our Pest Treatment Adelaide services from start till the end!!
Domestic Pest Control Service
We care for your kids, pets, and elders and undertake only APVMA-approved products. We provide customized domestic Pest Control Adelaide to every customer depending upon their property size, location, treatments required, and level of infestation and damage caused by the pests.
Commercial Pest Control Service
We provide economical commercial pest services for shops, offices, hotels, schools, hospitals, lawns, parks, and more. Book your long-term pest control plans for better pricing and better-planned Emergency Pest Control Adelaide.
Termite Inspection and Treatment
Termite is a big recurring problem for Australians. As termites love cellulose and so they end up in big losses to the owner. Termites are silent attackers and cause deep destruction without your notice. Almost all DIYs fail in front of them so for your longer relief call us for the termite inspection and treatment.
End Of Lease Pest Control
Now get your bond back with our end-of-lease pest control services Adelaide. We are the landlord's first choice pest company, his building is secured with us and your bond money is secured with us.
Pre-purchase Pest Control
Pre-purchase pest control is very important before purchasing any new building. If you are searching for the most affordable Cheap Pest Control Adelaide company for it, then we can answer all your queries and concerns.
Possum Removal in Adelaide
We have all the legal certification and rights to relocate the possum safely. Possums will not allow you to sleep peacefully with their noises and nuisance plus they are the carrier of other pests like fleas, mites, ticks, etc. making your place noisy, smelling, and contaminated. Moreover, as it is illegal to kill or harm the possum, therefore, trapping and relocating needs Pest Control Adelaide's professional expertise.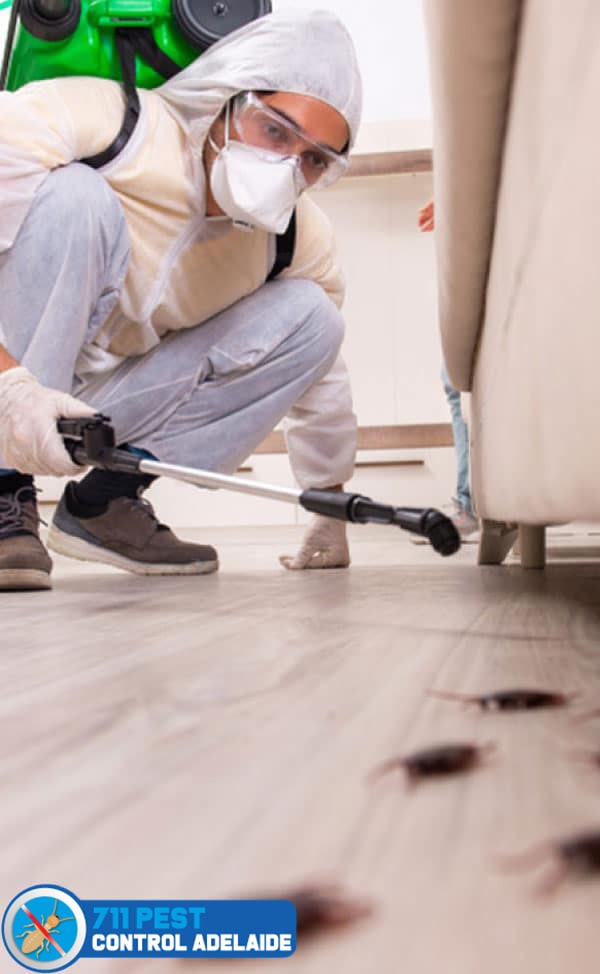 24 Hours Emergency
Pest Inspection Service Available in Adelaide
Sometimes, people are not aware of the pest infestation in their homes. They don't know whether they have pests or not. Well, don't worry you can have professional Pest inspection services at any time. We are professional service providers who are well-aware of pest behavior and always available for providing pest control services. According to pest infestation and type of pest growth in your house or property, you can hire our Pest Controllers. We have baits and other tools for detecting pest activities in your home. So, call us now 711 Hours Available Pest Infestation Services anywhere in Adelaide.
Home and Industrial Pest Control We Do
We at 711 Pest Control have expertise in providing almost every pest control service to people in Adelaide. Our professional team of experts is trained enough to customize the pest control solutions for our clients to the best of their satisfaction.
Chemical control:- We use various types of pesticides and chemicals to control pests. This is the most traditional method to get rid of pests. We prepare a solution based on the problem and do chemical control that shows immediate effect.
Physical control:- We are not allowed to kill some pests but we have to get rid of them. So we capture and remove them humanely. This is what we do in physical control. For possums, we use cages, and for rodents and other pests, we use traps.
How Are We Different and Unique


From Other Pest Control Companies in Adelaide?

Sometimes the intensity of infestation is really high, this is commonly seen in the case of termites, where if few termites are able to escape the treatment can cause big troubles soon. Therefore, hiring an experienced Adelaide Pest Control extermination company like us can be a boon to you and your property. Yes, we are different from the rest because of the following reasons –
Fastest Service Providers
We are the fastest and most popular pest controllers in Adelaide. Our Professional Pest Controllers have all the latest techniques and strategies for eliminating the pests from your place. We have staff who are very punctual and popular for their fast response to the customers.
Affordable Pest Control
We control pests professionally, but it doesn't mean you consider us so expensive in the market. You can get all types of Pest Control Services at the most reasonable rates. We are Affordable Pest Controllers in Adelaide. You can easily have a booking of cheap pest control in Adelaide by calling us on our toll-free numbers.
Certified and Licensed Staff
Our Local Pest controllers are fully licensed and certified to provide the services in Adelaide. We have powerful machines and tools because we are government-authorized. We use safe methods for controlling the household pests in your home.
Experienced Workers
We have years of experience to provide services for Pest Control and Treatment. We have all the necessary information about the pests just because of twenty years of experience.
Technologies and skills
Our professionals are up-to-date on controlling the pests. Our professionals always try to upgrade the Pest Management System so they can satisfy customers in Adelaide. Also, the most common benefit, is you can get Free quotes from our company.
High-End organic products
We use organic products and high-end Pest Treatment Adelaide technology to give results more than expected. We also take follow-ups and visits post-treatment to ensure the complete satisfaction of our valuable customers in Adelaide. Don't think much and dial our 24*7 active helpline numbers to book a Pest Inspection Adelaide appointment now.
Available in Adelaide With Quality Pest Management Service
Well, we want to inform you that you can avail of our Pest Extermination anywhere in Adelaide. We are also available for Commercial And Residential Areas. Also, if you are residing nearby Adelaide, you can contact us to get the benefits of Pest Control Services. We are the most active service providers who can provide you with the best services by using the Best Pest Solutions. All types of Pest repellents are safe and reliable for keeping you protected from pests.
What Makes Us Best Pest Controller in the Market?
It is our plans that make us the best pest controller in the market. Here is what we have included in our plans:
Do safely and correctly use pesticides:-

We know about pesticides and chemicals and their bad and good impacts. So we use them safely and correctly. One mistake can put your health at risk.

We do not use outdoor chemicals indoors:-

We know that some chemicals are made for use indoors and some are made for use outdoors. We keep them separately and use them as per the rule.

General pesticide safety:-

We know all general pesticide safety and never forget to implement them when we are at service. We equally care for the safety of our pest control professionals.

Proper licensing and training:-

This has a great role to play and you must not hire a professional or company that has no proper licensing or training. We have Certificate III In Pest Management.
Book Our Pest Control Inspection Today
Need a complete solution for Pest Control Inspection for homes, commercial areas, and public properties! Call us on 08 7184 4667 to hire our Pest Control Inspectionlers in Adelaide and nearby locations.
PRESERVATIVES: Our Overall Approach to Hygienic Processing
When pests are around it is very important to arrange for food safety. Preserving food is an important task that is carried out by our team to ensure the high quality and safety of products. It entails the use of preservatives for proper handling, storage, grading, and transportation of perishable foods to protect them from deterioration or spoiling. We provide suitable preservative options for different food products. Our preservation process starts with the identification of the need for a specific food item- this will be based on various factors such as time limit, nutritional value, etc.
A preservative is an agent that helps maintain food quality and extends its shelf life. There are many different types of preservatives and each is used for a particular purpose. Most of the time, preservatives are added to foods during the manufacturing process or at the point of consumption. However, there are some instances where preservatives may be added to foods after they are sold to consumers.
Preservatives are divided into two major categories: chemical and microbial. Chemical preservatives include antimicrobials, antioxidants, and dye/flavor inhibitors. Microbial preservatives include probiotics and enzymes. Our overall approach to hygienic processing ensures that your food products are safe and of high quality. We use a variety of preservatives to preserve the quality and safety of food products, and we test them to ensure that they do not affect the safety or quality of your products.
General Pesticide Safety and Some Effective Pest Prevention Tips For The Initial Days
Pesticides play an important role in modern days for pest and insect control. However, with the increasing use of pesticides comes greater concern for the human, animal, and environmental safety and proper application. The majority of pesticide applications are done with toxicity testing to determine which chemicals will not harm humans or wildlife. Pesticide poisoning is a serious health problem that can occur when people come into contact with high concentrations of these chemicals. General safety precautions when using pesticides include wearing protective clothing, using safety equipment, following the instructions on the product label, and keeping pesticide residues out of the reach of children and pets.
Some effective pest prevention tips for the initial days include:
Keeping up to date on pesticide-resistant pests

Using natural methods of pest control

Using traps rather than poisons.

Pesticides can be effective for controlling a variety of pests, but some are more effective than others. To choose the most effective pesticide for a particular pest, it is important to know the characteristics of that pest as well as the conditions under which it is likely to be encountered.